I Follow 16 teens through central Brisbane, joining a caravan of sinister bodies, bows, and broken voices. I'm tagging a Nightwalks training show with teens, which is a production this year Brisbane Festival. In three days, they'll open for an out season. I was warned before my arrival: you are a participant, not a spectator. Expect to become awkward.
It's an intentional contradiction: a A show for adults, designed and led by local teens. Walking trip through town at night. An exploratory experiment in social art, in which young people let us experience the streets with their own eyes.
While walking, teens suck juice cans and score BeReals, most of whom are still strangers. A mixture of clowns, scholars, and outcasts, they briefly come together to make a piece of the stage—except for the rehearsal room and stage at Queen Street Mall at rush hour.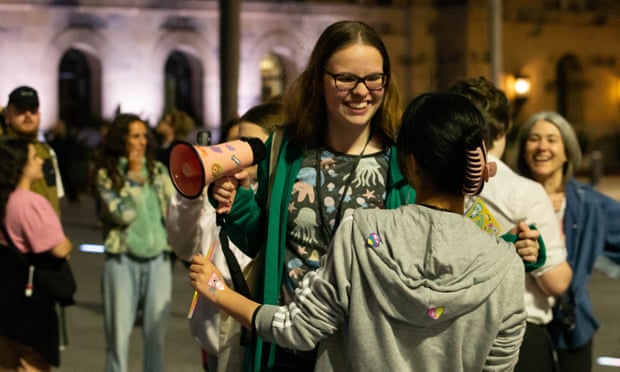 Born in a well-known Canadian social arts company mammal diving reflexologyNightwalks with Teenagers is a beloved festival that has toured internationally for over a decade, and Brisbane was the second Australian city to host it after Hobart. Brisbane isn't particularly known for being inclined to experiment, but that's exactly why we need it.
The large portable speaker plays Macarena while walking. I hear the cries of laughter from two thirteen-year-old girls, twins in mischievous mischief; They've been secretly pressing dinosaur stickers onto everyone's clothes. I fall in step with a mutant boy walking alone. He is curved, and his eyes are drooping. As we cross into Southbank, I ask him if he has spent much time there. "When you don't have any friends, it's a little weird to go out alone," he says.
We stop in modest, shaded places. Teens play games. They climb, run, and laugh. Some adults might expect fickleness and rudeness from teens, perhaps based on our own memories of adolescence. These teens are tough on their minds, but in the end they are Children. When given all the freedom and creative agency imaginable, all they want to do is play.
"Storytelling is how the world makes sense to me," explains one bold comedian. "But I'm not allowed to go into the arts – my mom is classic Asian. I'm just trying to do piles now, before I graduate and do forensics."
We keep walking. The fairies fall upside down in the bushes and get stuck with some kind of poisonous cucumber trying to get everyone else to eat.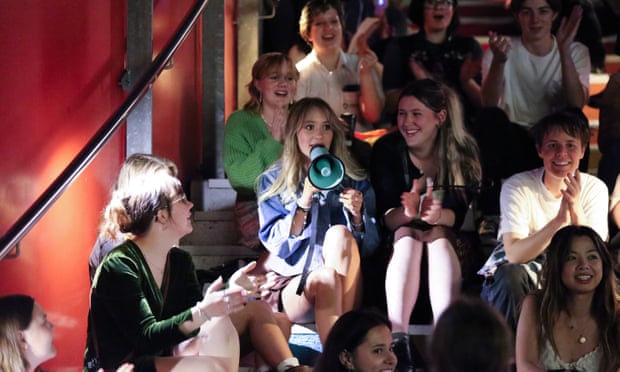 Teens flock to the Rainbow Stairs – a favourite, as many are known as LGBTQ+. An Iranian girl who immigrated just two years ago listens with admiration to festive talks about marriage rights and parades. "In my country, being gay is still considered a mental illness," she says. The others listen, Agog, as she explains the polygenic marital dynamics in her Muslim family: "Do you want me to draw you your family tree?"
The Big Four in the group are primarily theater directing officers, deployed from their various homes around the world to facilitate Nightwalks on behalf of its creator, Darren O'Donnell. They are cute and passive: they are only there to support teens' creativity, not direct it.
Two of them, Virginia Antonibelay and Vjoralba Kerimage, started their careers with Mammalian after they became engaged in their teens. They both came from low-income families and have never been exposed to anything like this. "It was my first chance to be chosen," says Vjuralba. "He was a light in a dark life." Virginia, now a creative producer at Mammalian, agrees: "It takes a village to raise a child. Performing arts organizations have a role in that."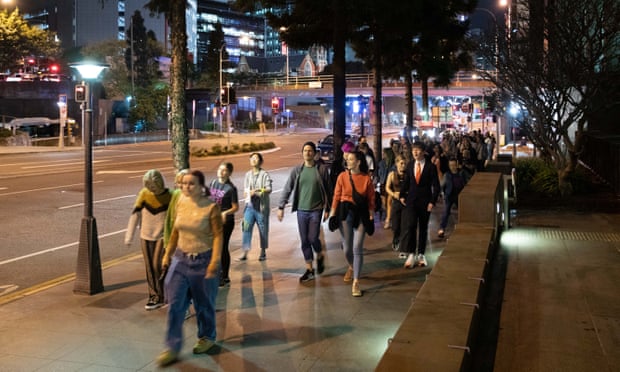 The other two, Jacques Tully and Chiara Brody, are university-trained theater makers who were drawn to Mammalian "social acupuncture," but the familial effect is similar, Jack says. "I found it easier to talk to adults when I was a kid. Now as an adult, I have permission to play."
On opening night, 40 people gathered in King George Square. Teens recognize the country, then nervously introduce us to the city scene. They experiment with games, jokes and provocations. The fairies are now shy and withdrawn. A boy in a suit and tie holding a megaphone. "You guys," he whispers to the others. "where are we going?"
I watch the young trans boy, in his arms with another teenager, dancing. He takes out several big pride flags and adorns them with people including the enthusiastic Iranian girl. Later, standing on the rainbow ladder, he took the microphone: "Welcome to Pride Trivia, hosted by experienced gays." As we walk, he and another teen share their upcoming stories with me, eyes shining with connection and belonging.
The night march is a bright mess. We embrace bruised knees, sticky hands, and awkward silences. Forty adults playing Floor is Lava on a giant Brisbane sign, slow dancing under fairy lights, playing 40 40 Home in the jungle. It's prolific, but I don't think Nightwalks' success depends on whether the experience is theatrically idyllic for its audience. This business is about the process, not the product. "What happens when you put teens in charge?" asks Mammalian. Above all, they can finally find each other in the dark.